Young People's Jury for Film Award 2023
The Young People's Jury for Film Award for best youth film is selected by the students in year 8a at Sofielundsskolan, Malmö. The prize is arranged by Malmö Kulturskola (Malmö Culture School).
Prize money: 25 000 Swedish kronor
Jury: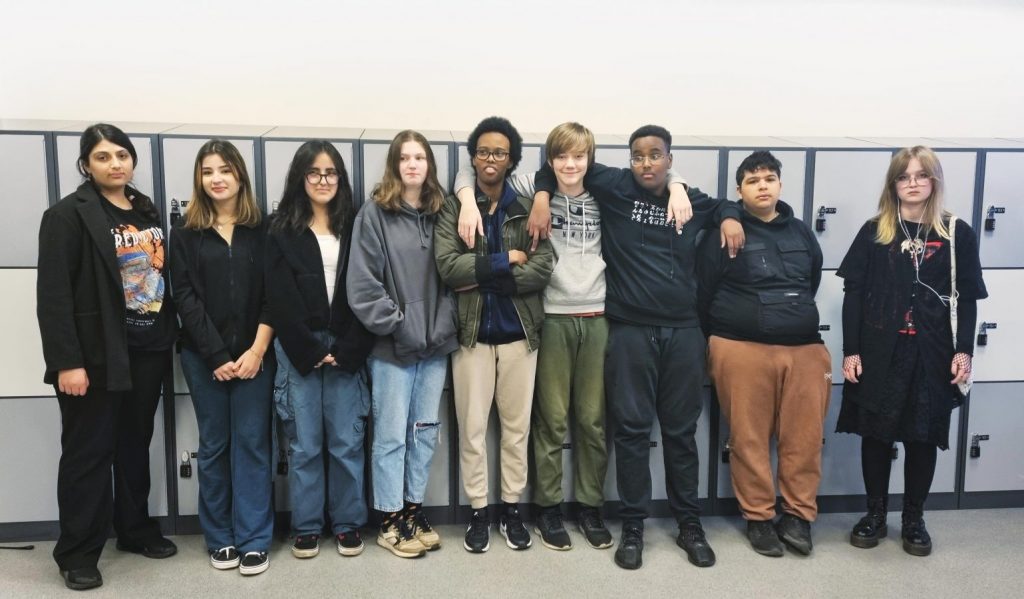 From left: Maria Alwani, Dea Kasembej, Durna Salehi, Aileen Parker, Guuleed Osman, Frans Nordenhök Askander, Sabir Abdullahi Jama, Jacob Al Timmi, Greta Thörn.
Absent: Viggo Kujawa, Mehdi Alshawi, Enduena Selimi, Somaia Shah
Teachers: Elin Heinervall Bondesson, Linda Persson, Tobias Ohlsson
The Church of Sweden Award
The Church of Sweden Award is given to a film for young people that maintains a high level of artistic quality and raises existential, equality and social issues in a way which speaks to both young people and adults.
Prize money: 100,000 Swedish kronor.
Jury:
Alexandra Dahlström
Guldbagge award-winning actor and director. Icon status after her lead role in Fucking Åmål (Show me love).
Patrik Blomberg Book
Director and musician. Wrote the script and directed the youth film Düsseldorf, Skåne, about synth music.
Erica Lang
Works as a high school priest in the Pastorate of Malmö. She also works in the Husie congregation where her work is focused on confirmands and youths.
Jesper Ödemark
Parish educator, long-time BUFF visitor and great cineast – which spills over and into his work with confirmands, youths and adults in Värby assembly outside Malmö.
Tävlande filmer: