"Buffilusk" the BUFF in Hospitals project
In order to present valuable film experiences even to those who can't come to the festival, we started BUFF in Hospital, also called Buffilusk. The project gives children who are hospitalized access to BUFF's film through a digital platform. Buffilusk is currently at 27 hospitals but is constantly growing.
It's important for BUFF that the children and young people who can't attend the festival also et a chance to watch really good films from all around the world. The films shown during the festival are unique stories that are usually not the most accessible. As part of the fact that we want to show great films for everyone, Buffilusk was launched giving hospitalized children access to the films on their premises.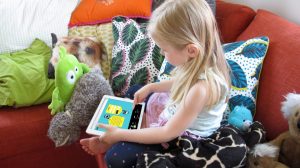 Buffilusk, BUFF Filmfestivals digital hospital platform also offers:
Personal presentations of the films
Reportage from events at the festival
The possibility to share reviews of the films
Access to study guides to some of the films
During the spring of 2017, the pilot project of which Buffilusk is built from was carried out with hospitalized children in Helsingborg, Lund, Malmö, and Kristianstad. Thanks to Region Skåne and staff at the department of play therapy, BUFF's festival atmosphere and program were able to reach those who couldn't attend the festival because of injury or illness.
We can now offer all hospitals in Sweden with childcare, access to the films through generous support from Postkodsstiftelsen, Region Skåne, and Creative Europe – Media Programme of the European Union. 27 hospitals around the country are involved in the project so far. BUFF also collaborate with the organisations JEF in Belgium and Sedmi Kontinent in Croatia on the project www.filminhospial.eu On this map, you can see which hospitals are already involved in Sweden, Belgium and Croatia. 
The ambition for this project, with support from Postkodstiftelsen, Creative Europe and Region Skåne, is to make a fundament for screenings at more hospitals all over Sweden at the same time as upcoming festivals. If you are working with play therapy or hospitals schooling and want more information, please contact project manager Lina Linde.
For information about our European cooperation, please visit Film in Hospital