"Buffilusk" the BUFF in Hospitals project
The BUFF festival spirit is reaching out to children and young people staying in the hospitals all over Sweden through a web based project called Buffilusk. Buffilusk started in small scale 2017 when the project was tested out in Helsingborg, Lund, Malmö and Kristianstad through the pilot project "BUFF in Hospitals". Buffilusk has since then improved and grown. During a period of 18 months hospital staff and patients will get access to a number of films from the official selection of BUFF Malmö 2018 and 2019, on a new digital platform.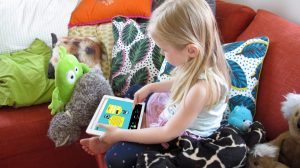 Buffilusk, BUFF Filmfestivals digital hospital platform also offers:
Personal presentations of the films
Reportage from events at the festival
The possibility to share reviews of the films
Access to study guides to some of the films
The ambition for this project, with support from Postkodstiftelsen, Creative Europe and Region Skåne, is to make a fundament for screenings at more hospitals all over Sweden at the same time as upcoming festivals. If you are working with play therapy or hospitals schooling and want more information, please contact project manager Lina Linde.