[spb_text_block animation="none" animation_delay="0″ simplified_controls="yes" custom_css_percentage="no" padding_vertical="0″ padding_horizontal="0″ margin_vertical="0″ custom_css="margin-top: 0px;margin-bottom: 0px;" border_size="0″ border_styling_global="default" width="1/1″ el_position="first last"]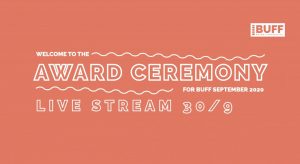 [/spb_text_block] [spb_text_block animation="none" animation_delay="0″ simplified_controls="yes" custom_css_percentage="no" padding_vertical="0″ padding_horizontal="0″ margin_vertical="0″ custom_css="margin-top: 0px;margin-bottom: 0px;" border_size="0″ border_styling_global="default" width="1/2″ el_position="first last"]
Welcome to this year's festive award ceremony and closing of BUFF September 2020! This year's ceremony is broadcasted live from STUDIO in Malmö and offers an exciting summary of both the film program and festival week with guests from all over the world on link.
Wednesday 30/9
The broadcast starts at 6.00pm (CEST) and lasts about 45 minutes.
Link to the broadcast is presented on buff.se but also on our facebook and youtube channel.
Awards handed out during the ceremony:
The City of Malmö Children's Film Award
The Church of Sweden award
The Young Film Jury's award for best youth film
Region Skåne's short film award
ECFA award
BUFF Nordic Star
Barnfondens prize for best comedy
FOMP award
[/spb_text_block]