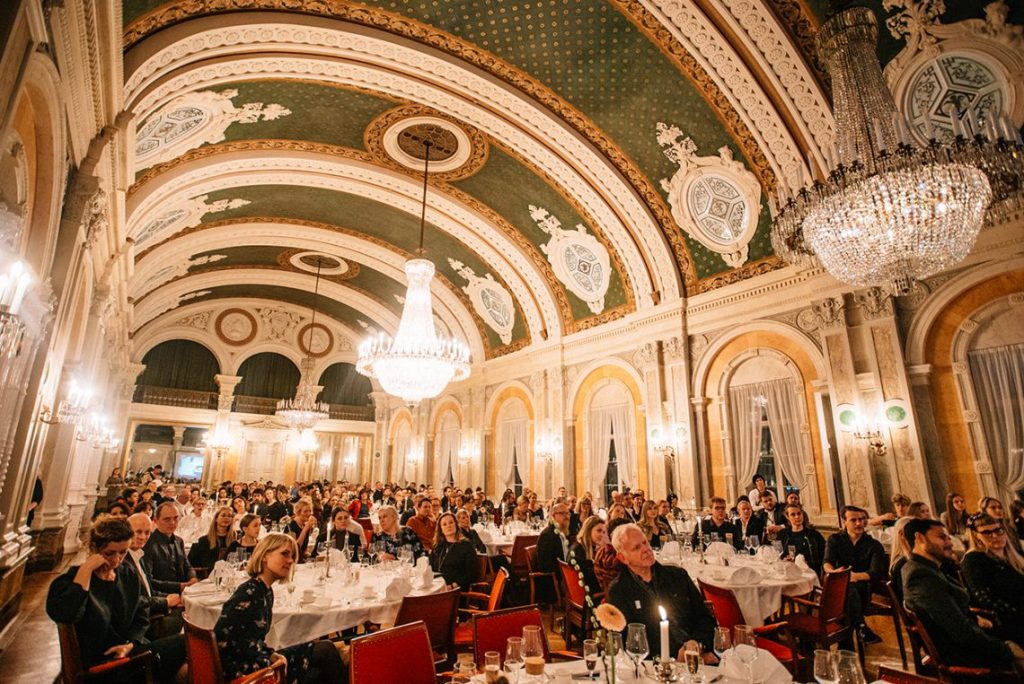 The City of Malmö Children's Film Award
The award goes to a filmmaker who according to the prize committee has contributed to the best children's film. Quality and originality are important criteria's. The winner receives 100,000 Swedish kronor and a statuette.
2023 – Neneh Superstar (director: Ramzi Ben Sliman)
2022 –  The Path (director: Tobias Wiemann)
2021 – Mezquites Hjärta (director: Ana Laura Calderón)
2020 – Los Lobos (director: Samuel Kishi Leopo)
2019 – Fight Girl (director: Johan Timmers)
2018 – The Breadwinner (director: Nora Twomey, Ireland)
2017 – Hunt for the Wilderpeople (director: Taika Waititi)
2016 – Birds of Passage (director: Oliver Ringer, Belgium, France)
2015 – Life according to Nino (director: Simone Van Dusseldorp, The Netherlands)
2014 – Mother, I love you (director: Janis Nords, Latvia)
2013 – Kauwboy (director: Boudewijn Koole, The Netherlands)
2012 – Isdraken (director: Martin Högdahl, Sweden)
2011 – The Liverpool Goalie (director: Arild Andresen, Norway)
2010 – The Indian (director: Ineke Houtman, The Netherlands)
2009 – Son of Rambow (director: Garth Jennings)
2008 – Titanics ti liv (director: Grethe Bøe, Norway)
2007 – Förortsungar (director: Ylva Gustavsson och Catti Edfeldt, Sweden)
2006 – Love + Hate (director: Dominic Savage, Great Britain)
2005 – Bonjour Monsieur Shiomi (director: Shemi Zarhin, Israel) and Torkel i knipa (director: Stefan Fjeldmark, Thorbjörn Christoffersen, Kresten Vestbjerg Anderssen, Denmark)
2004 – Tael til hundra (director: Linda Krogsöe Holmberg, Denmark)
2003 – Elina – som om jag inte fanns (director: Klaus Härö, Finland)
2002 – El Bola / The Pellet (director: Achero Manas, Spain)
2001 – There is only one Jimmy Grimble (director: John Hay, Great Britain)
2000 – Kirikou (director: Michel Ocelot, France)
The Church of Sweden Award
The Church of Sweden Award is given to a film for young people that maintains a high level of artistic quality and raises existential, equality and social issues in a way which speaks to both young people and adults. Prize amount: 100,000 Swedish kronor.
2023 – Bullets, dir: Peter Pontikis
2022 – Olga, dir: Elie Grappe
2021 – Gagarine, dir: Fanny Liatard, Jérémy Trouilh
2020 – Lola (Lolas väg mot havet) ) dir: Laurent Micheli
2019 – Zen in the Ice Rift, dir: Margherita Ferri
2018 – I Kill Giants, dir: Anders Walter
2017: Heartstone, dir: Guðmundur Arnar Guðmundsson
2016: Microbe & Gasoline, dir: Michel Gondry
2015: X+Y, dir: Morgan Matthews
2014: Leave to Remain, dir: Bruce Goodison
2013: Broken, dir: Rufus Norris
2012: The Giants, dir: Bouli Lanners
2011: Spork, dir: J.B Ghuman Jr
2010: Vegas, dir: Gunnar Vikene
2009: Mannen som älskade Yngve, dir: Stian Kristiansen
2008: Fighter, dir: Natasha Arthy
Young People's Jury for Film Award
The Young People's jury for Film Award is coordinated by the educational unit of Malmö's Department of Culture for Children and Young People (Department of Culture, City of Malmö) and is awarded by a class of secondary school students from Malmö. Prize amount: 25,000 Swedish kronor
2023 – Bullets, dir: Peter Pontikis
2022 – La Traviata, My Brothers and I. dir: Yohan Manca
2021 – All foreigners keep their curtains closed, dir: Ingvild Søderlind
2020 – Lola (Lolas väg mot havet) ) dir: Laurent Micheli
2019 – Harajuku dir: Eirik Svensson
2018 – Spider Thieves dir: Guillermo Helo
ECFA Award
Six European films for children and young people are competing for the ECFA Award (European Children's Film Association Award) at BUFF Filmfestival.
The prize has been created by the European Children's Film Association and is awarded at a number of international festivals for films aimed at children and young people. The winner from BUFF will go on to compete for the prize for the year's best film for children and young people, awarded at the film festival in Berlin.
2023 – Sea Sparkle, dir: Domien Huyghe
2022 – How I Learned to Fly, dir: Radivoje Andrić
2021 – Tottori! Sommaren vi blev superhjältar, dir: Silje Salomonsen och Arild Østin Ommundsen
2020 – Life without Sara Amat dir: Laura Jou)
2019 – Fight Girl dir: Johan Timmers)
2018 – I am William dir: Jonas Elmer)
The Region Skåne Short Film Award
Region Skåne's Cultural Board founded this award for the best short film for children or young people with the purpose to raise the status of short films. Prize amount: 100,000 Swedish kronor.
2023: Outside  dir: Wouter Keijzer
2022 – I am Leo  dir: Tajo Hurrle
2021 – Goads, dir: Iris Baglanea
2020 – Jarvik dir: Emilie Mannering
2019 – My Time dir: Giulia Gandini
2018 – Tweener dir: Julia Thelin
2017: The Silence, dir: Farnoosh Samadi och Ali Asgari
2016: My grandfather was a cherry tree, dir: Tatiana Poliektova och Olga Poliektova
2015: Catwalk, dir: Ninja Thyberg
2014: Agnes, dir: Anja Lind
2013: Damn Girl, dir: Kira Richards Hansen
2012: Being Bradford Dillman, dir: Emma Burch
2011: Jenny, dir: Ingvild Søderlind
2010: The Mouse, dir: Pil Maria Gunnarsson
2009: Semestersystern, dir: Amanda Kernell
2008: Doggie, dir: Simone van Dusseldorp
2007: Schack, dir: Pernilla Hindsefelts
2006: Little terrorist, dir: Ashvin Kumar
Sydsvenskan and BUFF's prize
Sydsvenskan and BUFF's prize is awarded for work which has contributed to the development of film for children and young people. The prize amount is 35,000 Swedish kronor.
Some of the previous winners:
2019: Bautafilm
2018: Linda Hambäck
2017: Filmcentrum Riks
2016: Catti Edfeldt
2015: Ulf Synnerholm
2014: Mira Barkhammar, Mira Grosin and Liv LeMoyne
2013: Lotta and Uzi Geffenblad
2012: Stina Wirsén och Jessica Laurén
2011: Hanna Heilborn and David Aronowitsch
2010: Birger Larsen
BUFF Nordic Star
BUFF Nordic Star is an award which goes to three young actors in recognition of outstanding acting achievements in a film screened at BUFF Malmö Film Festival.
2023 – Tomas Samir – Bullets, Stella Leppikorpi – Bubble, Liv Elvira Kippersund Larsson – Dancing Queen
2022 – Sigrid Johnson – Comedy Queen, Kristin Erla Petrusdottir – Birta, Storm Exner Fjæstad – S(p)ökarna – Thrillerkvällen
2021 – Karin Øye – All Foreigners Keep Their Curtains Closed, Elina Patrakka – Sihja, the Rebel Fairy, Lucas Andreasson – Shower boys
David Ramirez Knezevic – Shower boys
2020 – Benoni Brox Kane (The Kicksled Choir), Ylvali Rurling (Jag, Julia), Hafrun Arna Johannsdottir (XY)
2019 – Gerda Lie (Wildwitch), Jere Ristseppä, (Stupid Young Heart), Iris Høysæter Asserson (Harajuku)
2018 – Mimmi Cyon (Night Child), Alexander Magnusson (I am William), Tage Johansen (Los Bando)
Barnfondens Prize for Best Comedy
Barnfonden's prize is awarded to the children's or young people's film that gives us the best laugh; a film that contributes to more children's laughter around the world; a film that lets children be children and which gives laughter space.
2023 – Dancing Queen. dir: Aurora Gossé
2022 – Oink, dir: Mascha Halberstad
2021 – Margot och Marguerites fantastiska äventyr, dir: Pierre Coré
2020 – The Kings of Mulberry Street dir: Judy Naidoo
2019 – Halkaa dir: Roshni Nadar Malhotra, Nila Madhab Panda and Akshva Parija
Nöjesguidens Prize for Best Film Score
Nöjesguiden's prize for best film score is awarded to a composer whose music elevates the film experience and intensifies emotions. The score must be original and develop the use of music in film.
2019 – Anna Meredith for the music in Eighth Grade
Children's Cinema of the Year
The prize is an incentive and an inspiration for those cinemas which have worked actively to develop their ability to cater for younger audiences. The prize is arranged by the Swedish film distribution and educational organisation Biografcentralen, in association with the branch organizations which have financed the award (Sveriges Filmregissörer, Sveriges Filmfotografer, and Regional Resurscentrum). Cinemas are nominated by members of the public through the website www.barnbio.se after which the final decision is made by a jury. The prize amount is 15,000 Swedish kronor.
2019 – Hagabion in Gothenburg
2018: Folkets Bio Regina in Östersund
SF Bio's Children's Film Grant
Cinema chain SF Bio's Children's Film Grant is awarded annually to support a person who has an idea that can be developed into a Swedish film for children capable of reaching a larger audience. The grant is for 100,000 Swedish kronor.
2019 – Janne Vierth
2018 – Maria Blom, Patrik Ryborn och Anders Weidemann för filmen Monky.